Gold is correcting now but may be on the verge of a major breakout at $1400 later this year.  Gold could be in a 5 year base just getting ready to move.
The major producers are running out of reserves
and production has peaked and is now declining.

I expect a major move into gold (NYSEARCA:GLD) by the end of this decade when the major producers face a huge shortfall.
Even Goldcorp's $GG Ian Telfer was quoted yesterday in an interview with Kitco entitled,
Maybe they should look right in their own backyard in Ontario.
For years I have been following an extremely high grade gold deposit in
Ontario Canada completely overlooked by the retail investor and the major
producers.  The asset was top notch but the company was missing top level
mine building management and the ability to market into the USA.
Those two factors have now changed in that Treasury Metals $TML.TO $TSRMF
is now listed on the OTCQX in the USA under TSRMF and they now have a new
CEO who has just come off a major turnaround win at Kirkland Lake.  This
mine in Ontario was pretty much on the verge of bankruptcy when Chris
Stewart came in 2014 bleeding money for 13 straight quarters.

Chris Stewart came in and turned the mine around starting to generate
positive cash flow and the market cap soared all because of exceptional
high grade mine engineering.
Chris Stewart is to mine engineers as "Tom Petty" was to songwriters.
Chris took Kirkland Lake from being flat on its back almost broke to a
billion dollar plus market cap.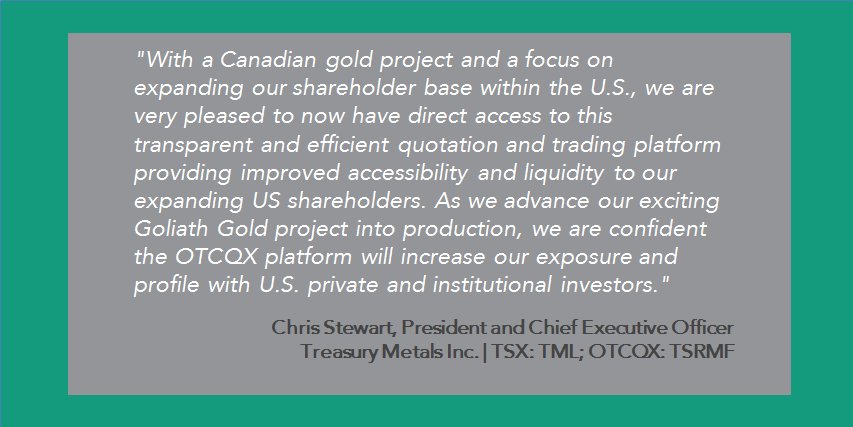 Chris left Kirkland Lake and has transitioned into the CEO role of Treasury
Metals $TML.TO $TSRMF which has been one of my undiscovered favorites for
years.  However, I doubt it will be ignored for too much longer as Chris is
working on an advanced Feasibility Study and started a 30k M drilling
campaign.  Results just started coming out and they are impressive expanding project.
Chris Stewart, President and Chief Executive Officer, commented on the news: "After completion of the current infill drilling program in the Main Zone resource area, this East Resource Target will become an area of focus with plans to drill test down dip and along strike to further delineate this exciting target. The additional drilling in this zone has the potential to add near surface mineral resources which may potentially extend the mine life and/or increase production rates from the underground when compared to the proposed mining schedule in the 2017 PEA."
Even more exciting Treasury now has a US listing $TSRMF and will be focused
on investor outreach to the USA for the first time.  I believe their
Goliath Project outside Dryden, Ontario could move into production by 2020
and possibly perform even better than Rainy River which was bought out by
New Gold.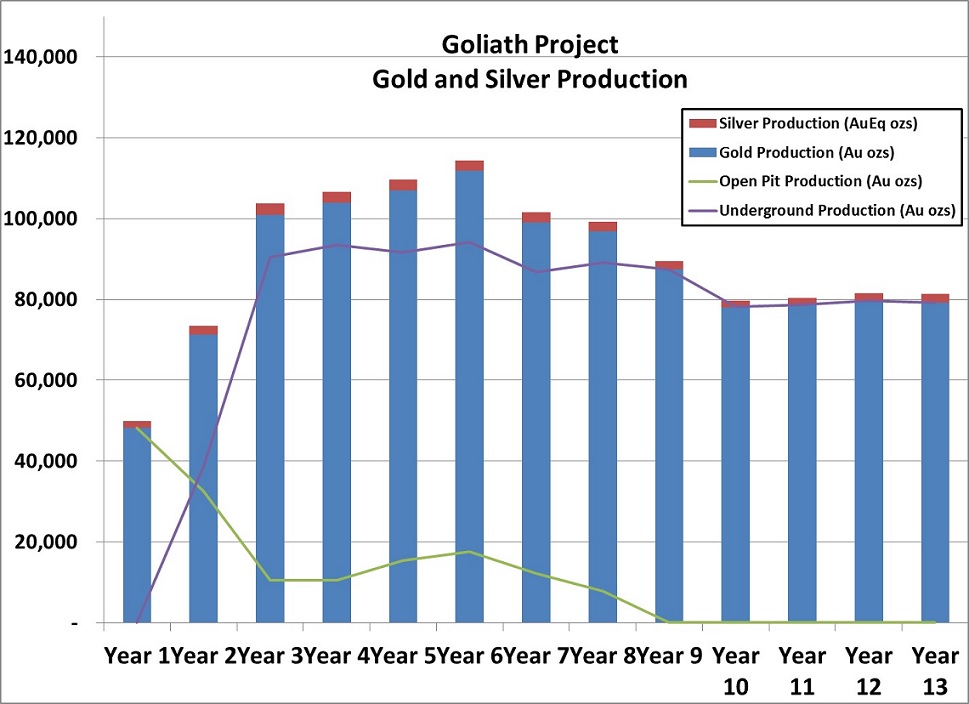 Although Goliath doesn't look as big as Rainy River, it could be more
economic.  There are very few projects like Treasury's Goliath Project in
Canada that has a short timeline to production with really nice high grade
and that is still cheap.
Its located in Ontario where Chris Stewart has worked for years permitting
operations.  The infrastructure is excellent with power and roads to the
property.
The market cap is still small under $100 million but it could grow with a
successful drilling campaign and as they move closer to production.  This
isn't a huge billion dollar capex like some of the majors are working on.
Be careful of new discoveries in this market with no drill results fetching billion dollar market caps.
For less than 1/10th of that you can get a project that is so advanced, high grade, near infrastructure and in one of the most friendly mining jurisdictions.
Goliath is 20 minutes away from a town of 7500 people in Dryden.   Location
and infrastructure are extremely important when it comes to capex.
I believe over the next year Treasury could really expand this resource
under Chris Stewart's leadership for one major reason.  The current
resource isn't that deep and when you look at other gold mines in the
region they go down two or three times deeper.  I think as the drilling
goes deeper the resource should grow like other nearby deposits in Northern
Ontario.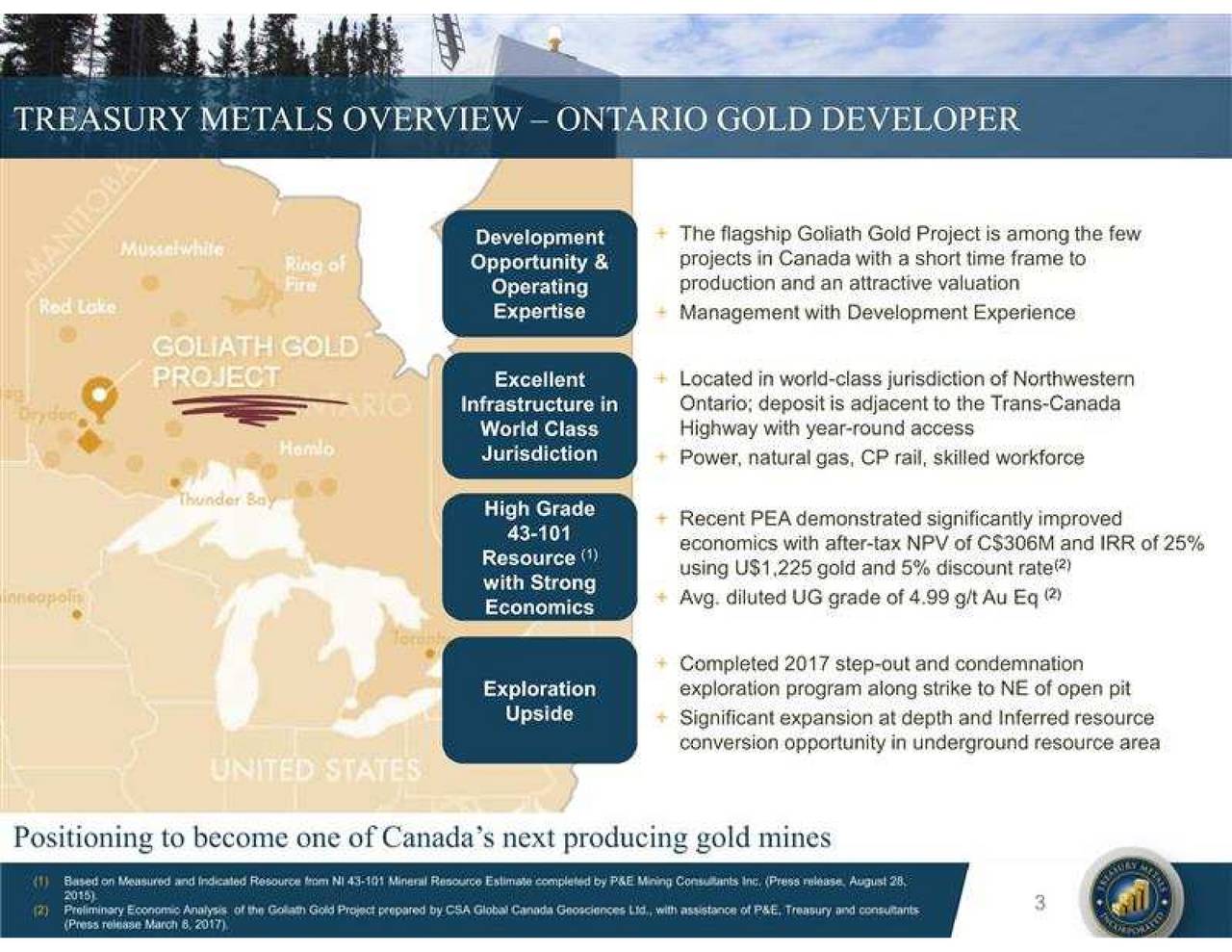 In addition, this deposit is unencumbered with no royalties which is
extremely rare to find today and gives shareholders much more leverage in a
gold market that is on its way to a potential breakout at $1400.
Drills are turning at Goliath right now and I believe management could find
other high grade zones this season which could make this deposit even more
desirable for the major whose production is looking to slide off a cliff by
the end of this decade.  Management believes there is a lot more gold in
this deposit.  They may also improve the gold ounces moving inferred ounces
into the indicated category.
While Treasury is turning the drills they are advancing the permitting
process so they can eventually receive permits for construction by the end
of 2018.  Chris Stewart was one of the pioneers at Kirkland Lake using
battery powered equipment rather than diesel which significantly improves
the miners health benefits.

I believe Treasury could be at the forefront similar to Integra was in
using cutting edge technology to mine rather than by sticking with the same
old ways.  Big Capex mines like Rainy River may have gotten all the
attention back in the last bull market, but in the next bull market highly
economic and efficient mines such as Goliath may take center stage as
investors look for quality over quantity.
With the current drilling program led by a top miner both the quality and
quantity could significantly improve.  Treasury $TML.TO $TSRMF may soon
breakout the critical $.76 above the 200DMA.  Its bouncing off support of
huge uptrend channel with a near term technical target of $1.