This may be the best time to invest in both poly-metallic assets in the past generation.  
Base metals have been basing for close to ten years since the 2008 credit crisis when the globe went into a deflation.  Now the base metals led by copper (NYSEARCA:JJC) and zinc have already broken out.
They may be consolidating and making a short term pullback to the rising 50 DMA which should act as support.  According to some traders the first pullback to the 50 DMA is a secondary opportunity to those who have missed the breakout.
Precious metals are following suit with a breakout of gold at $1300 and silver stock ETF $SIL at $34.  Notice a few silver (NYSEARCA:SLV) miners are breaking out including Dolly Varden $DV.V $DOLLF which I have been highlighting for a few weeks now on exciting exploration news.

The US dollar(NYSEARCA:UUP) is finally falling and the Fed's job of re-inflating the economy appears to be working.  Inflation is accelerating along with asset prices.  This falling dollar and rising inflationary pressures are the factors that are helping start this rally.
I am looking for high grade systems which have not only gold and silver but lead, tungsten and zinc exposure as well.
Margaux Resources $MRL.V $MARFF is relatively unknown and hardly trades right now but that could change in the next few weeks as they start drilling this Autumn and possibly releasing assay results.
I would like to highlight recent samples from a showing on their properties that showed ridiculous grades of 35 g/t Gold, 1,000+ g/t Silver, 30+% lead and 13+% zinc.  This vein identified has never been drilled or reported even though there has been 100 years of work at the camp. Since this time they have released high grade samples from all over their property package.
Margaux released more samples from their Ore Hill property which returned high-grade gold values, including 119 g/t (or 3.8 oz/ton) and 105 g/t Au (or 3.4 oz/ton), high-grade silver grab samples including 496 g/t Ag (or 15.9 oz/ton) and 195 g/t Ag (or 6.3 oz/ton), and high zinc grades including 22.8% Zn and 17.5% Zn.  According to Margaux, there is widespread mineralization on the property.
Another potential wildcard for Margaux is that it has a lot of historic tungsten tailings from the Jersey Emerald Mine.  Tungsten has rebounded significantly over the past three months so Margaux is partnering with Cronimet a leading tailings recycling firm to possibly recover some of the tungsten and clean up the tailings in this mining region.  Its important to note that this mine was the second most productive tungsten mine in North America.
They have been flying way under the radar consolidating properties with multi-metal exposure.  This is the first time this Sheep Creek region in the Kootenays BC has been consolidated in over 100 years and they got some good deals in this bear market.  Now that they control 26 out of the past producing 34 veins and as metal prices break out they are confident in telling this story across the globe as we move into a bull market for metals.
The story of this mining district goes back to the 1920′s which had some of the richest zinc and tungsten in North America.  There is also gold and silver which was mostly overlooked by the old timers.  The Kootenays is a historic and mining friendly region with existing infrastructure including a lead zinc smelter and a gold mill in Washington State.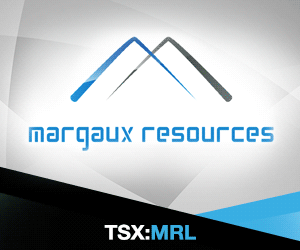 Zinc is hitting 10 year highs and could soon hit $1.50.  At these levels for zinc, drilling results following up on these samples could drive a lot of interest in this company which has been mostly dormant.  The average volume is meager now at around 20k shares daily but with drilling news and increased exposure that could change.  The sample results from the area look encouraging but in a rough summer doldrum market that doesn't really move the number.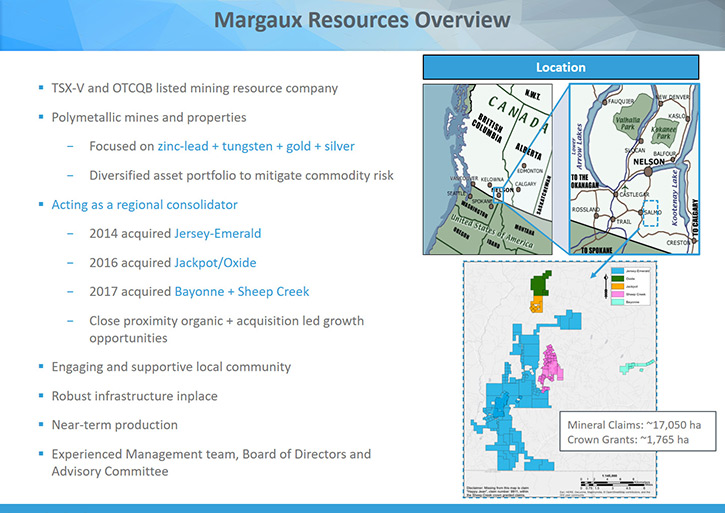 Drilling could and those results may be just days away so it may be time right now to put Margaux Resources $MRL.V $MARFF on your radar.
Also its very important to note the advisors to the company including some of the top miners in the business which includes Stephen Letwin CEO of Iamgold and Chris Stewart CEO of Treasury and prior to that Kirkland Lake which was an exceptional turnaround story.
When you see those two famous names on a little junior $11 million market cap company just starting to follow up on these high grade samples with drilling I pay attention.  They don't put their names and credibility on the line for nothing.
Stay tuned and put $MRL.V $MARFF on your watchlist and start doing your due diligence on this small company that may be just beginning to possibly hit some encouraging drill results this Autumn.
Download the Margaux Resources $MRL.V $MARFF presentation by clicking here…
Disclosure:  I own securities in Margaux and they are a website sponsor.  This means I have a conflict of interest and have been compensated to advertise the company.  This is an advertisement and not financial advice.  This contains forward looking statements which may never come to fruition as small cap stocks are incredibly risky.  Article is based on public information and Author attempts to be accurate but errors may occur.  Please do your own due diligence.  I may buy/sell shares without any notice to the subscriber.
Section 17(b) provides that: "It shall be unlawful for any person, by the use of any means or instruments of transportation or communication in interstate commerce or by the use of the mails, to publish, give publicity to, or circulate any notice, circular, advertisement, newspaper, article, letter, investment service, or communication, which, though not purporting to offer a security for sale, describes such security for a consideration received or to be received, directly or indirectly, from an issuer, underwriter, or dealer, without fully disclosing the receipt, whether past or prospective, of such consideration and the amount thereof."