Commercial and Industrial Loans Increased in April
Federal Reserve data published last week shows that commercial and industrial loans increased 3.4% in April vs. the year-earlier level.
In late-2017 some analysts warned that the sliding annual growth rate for commercial and industrial lending in the US would soon turn negative, raising a warning sign for the US economy. But the dark forecast fell flat. US recession risk is virtually nil and early estimates for second-quarter GDP growth point to a firmer trend as the year-over-year change for loan growth continued to pick up through April.

Federal Reserve data published last week shows that commercial and industrial loans increased 3.4% in April vs. the year-earlier level. That's a sluggish increase compared with the historical record, but it's notable because it reflects the fifth straight month of stronger growth, lifting the annual change to the fastest pace in over a year.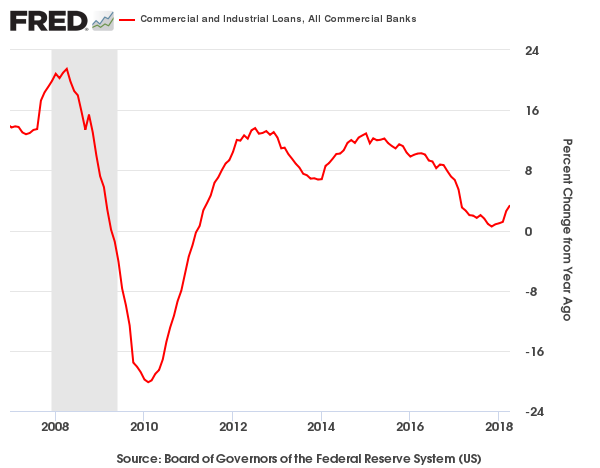 By contrast, last November the year-over-year rate slipped to a thin 0.5% gain, inspiring some observers to predict that the weakness presaged trouble for the US macro trend. But that was a dubious claim. As the November 2017 profile of US economic conditions advised, US economic activity remained healthy at the time.
Sign up for our Newsletter & get the FREE eBook
Retirement Day Trader:
How to Sell Weekly Options for Steady Income
Commercial and industrial lending is a poor indicator for estimating recession risk in real time, but in the wake of stronger comparisons this year economic analysts are wondering if the uptick points to an acceleration in economic growth in the months ahead. The jury's still out, in part because the rise in lending may a temporary bump as companies ramp up borrowing ahead of what's widely expected to be an ongoing rise in interest rates this year and beyond. Another theory is that the recent tax cuts have given companies a liquidity boost, which will soon begin to weigh on loan growth.
Whatever the future brings, there's evidence from several sources that commercial lending activity has been heating up so far in 2018. Small business loan approval rates at big banks, for example, jumped sharply in April, increasing more than 25%, based on the Biz2Credit Small Business Lending Index, which tracks 1,000-plus credit applications from small firms on Biz2Credit.com.
Nonetheless, bankers said the big picture for lending remains mixed. "I hear a lot of hopeful pipeline chatter from our various teams, but I'm sort of looking at what actually hits the books," Wells Fargo Chief Financial Officer John Shrewsberry told American Banker last week. "It doesn't seem to be there."
Alastair Borthwick, head of global commercial banking at Bank of America, speaking at a conference a week ago, noted that new lending activity has improved this year. But it's unclear if this is a sign of even stronger results. According to Reuters, he said
the outlook for loan demand is clouded by the fact that companies have extra income because of lower U.S. tax rates. However, he described companies as "more optimistic about the economy," which he said tends to bode well for loan growth.
Indeed, the latest survey data for small companies is strikingly positive.  "Never in the history of [Small Business Optimism Index] survey have we seen profit trends so high," said NFIB President and CEO Juanita Duggan with the release of the April report. "The optimism small businesses owners have about the economy is turning into new job creation, increased wages and benefits, and investment."
Duggan's view certainly finds support in yesterday's update of the Labor Department's numbers for job openings in April. Indeed, for the first time in at least two decades the number of job openings exceeded the population of workers searching for work.
Commercial and industrial loan data is still a poor indicator for monitoring recession risk. But if the labor market is heating up, which the May employment report seems to suggest, the appetite for borrowing may be on course to strengthen further in the second half of 2018.