Consumer Spending Sluggish
Consumer spending (NYSEARCA:XLY) in the US continued to rise at a snail's pace.
It, rose 0.1% in October, according to this morning's release from the Bureau of Economic Analysis.
That's the second month in a row for 0.1% growth, marking the weakest two-month period for consumption in eight months.

Economists were expecting a much stronger gain—0.4% via Econoday.com's consensus forecast. But the sluggish rise shouldn't be terribly surprising afternews from earlier this month that retail sales barely budged in October.
Perhaps the most intriguing part of today's report is that the weak rate of consumption is self imposed. Disposable personal income rose a strong 0.4% last month and the annual growth rate inched higher for the fourth month in a row.
It's anyone's guess if the expanding divergence between rising income and decelerating consumption growth will roll on. Meantime, it's clear that the reluctance to spend isn't due to stumbling income. Disposable personal income (DPI) increased 4.1% for the year through October, fractionally higher than the previous month's rise. As a result, DPI is advancing at the strongest year-over-year rate in nine months.
Sign up for our Newsletter & get the FREE eBook
Retirement Day Trader:
How to Sell Weekly Options for Steady Income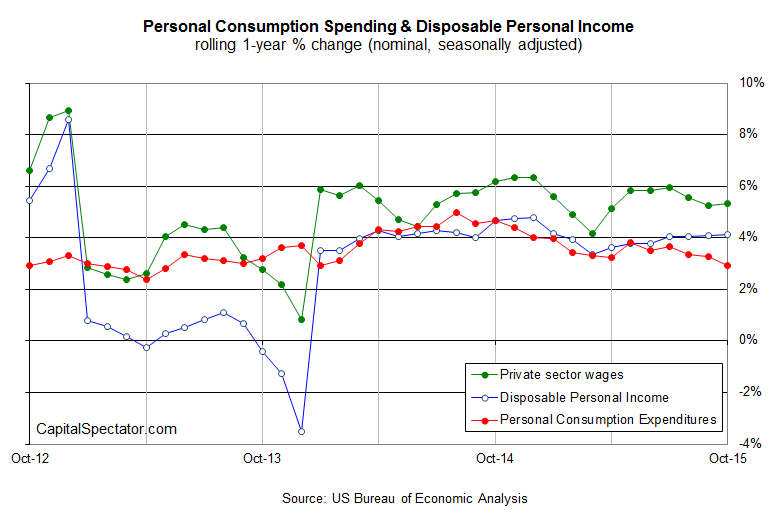 The relative strength in income is especially conspicuous via the trend in private-sector wages, which ticked up to a 5.3% annual pace last month (green line in chart above). That's a middling rate relative to the range over the last several years, but recent data suggests that wage growth is stable. That's more than you can say for consumption, which continues to slide in year-over-year terms (red line).
For the moment, there are more questions than answers regarding the hesitancy to spend. Is this an effort to ramp up savings ahead of the holiday shopping season? Or is the recent data a sign that conspicuous consumption is losing favor with the American consumer?
Whatever the answer, there's no doubt that the preference for saving is back in vogue. The share of DPI that was banked last month increased to 5.6% last—the highest rate in nearly three years.
But there's a darker interpretation of today's numbers. "Consumers are picking and choosing when to spend because they have limited dollars," Steven Ricchiuto, chief economist at Mizuho Securities, tells Bloomberg. "What you're seeing in the labor markets isn't really translating into confidence or spending on anything other than cars."
So much for the theory that lower energy costs would translate into higher spending elsewhere. MarketWatch notes that "analysis by Morgan Stanley suggests that consumers have pretty much saved all the money from lower gasoline prices over the past year."
The case for expecting gains in spending due to lower energy prices was a dubious proposition to begin with, as I discussed in a review of the numbers a year ago. Today's update certainly doesn't offer any reason to think otherwise.