Favorable Season Approaching for Gold and Junior Miners
We are only a few weeks away from entering a favorable seasonal time for gold (NYSEARCA:GLD) and junior miners (NYSEARCA:GDXJ) as investors return to the markets following Summer Vacation and time away with family.
May through August generally sees volume decreases and prices pullback in precious metals and juniors.  It is usually a great time to buy fur coats in the summer when it is discounted at possibly half off.  This favorable period usually last until year end when we get some tax loss selling and discounts around the Holiday time.
Gold tried to breakout at $1300 but I do not expect a significant move to possibly the end of this month and accelerate after Labor Day in September especially for the junior miners.  Stocks are in bubble territory very overbought and are finally beginning to correct slicing through their 200 DMA.  Terrorism and extremism worldwide is increasing in the USA and abroad leading to increased volatility.
Sign up for our Newsletter & get the FREE eBook
Retirement Day Trader:
How to Sell Weekly Options for Steady Income
Trump is not able to push through the promises he made on the campaign trail of rebuilding the US infrastructure and stopping unfair trade practices with China.  Gold is finally breaking through $1300 and regaining the 200 DMA on this volatility.  Let's see if gold is not beaten down again by the shorts.  Silver miners look great breaking out of a multi month downtrend resistance.
Meanwhile gold is up for two weeks and looks like it is forming a long term cup and handle pattern.  This is confirmed by other top fund managers like Gundlach who see a major breakout coming.  The banks who are short will need to cover and we could break through multi year highs at $1400, then make a powerful move and taking out its old resistance at $1900.
With a breakout of gold at $1375 and silver (NYSEARCA:SLV) at $18 I expect a huge net inflow into the junior miners possibly this fall as we head towards 2018 the last year before the majors production output falls off a cliff.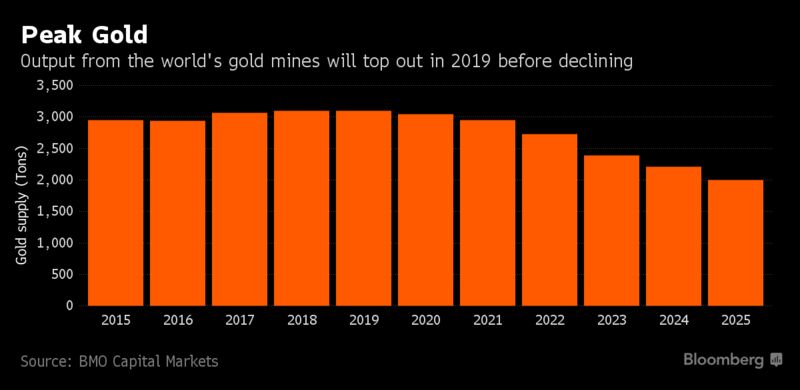 Notice the 5 year saucer and handle pattern being formed above.  We are going to witness an M&A frenzy when the next uptrend leg begins and increased interest in the junior explorers and developers as investors return to this sector only to find the major producers running out of resources.
I expect a move to test decade highs made in 2011 at $1,900 for gold and $50 for silver. Look at palladium, copper and zinc as well which are also making huge breakouts this week.  In addition, the boom in electric vehicles is going to send lithium, cobalt and graphite prices soaring especially if Trump harshens his stance against the unfair trade policies with China.
Here are a couple of junior miners you should follow as they are making some very significant developments this past week.
1) This high grade junior silver stock in Canada just announced exciting results as they discovered a whole new zone which may be a whole parallel deposit or a deeper offset meaning this intercept could potentially signal a much bigger mineral resource potential.  I expect the active 2017 drilling program to be expanded after these significant new results.  The company has an exceptional management team which has a track record of discovery success.  This is a new discovery which may have not caught on with the market yet.
2)This next US Gold Producer is significantly derisked after getting the support of a huge financial fund to take them into production by the fourth quarter of this year.  This fund is deep pocketed and just put in $20 Million USD yet the market didn't recognize this significant development during summer doldrums.  We are aware of this fund as it came into a copper company we followed in Arizona which then went on to make a huge move last year.  I expect that to possibly happen with this gold deal shortly as the stock is bouncing off 200 DMA support and I expect it to go into new highs post Labor day and as they get closer to production.
Make sure to sign up for my premium reports as I will be highlighting a Quebec gold explorer which is drilling right now in a very exciting area.  They raised more than $4 million for this exploration from the top investors in the sector including Osisko and Eric Sprott yet very few investors are aware of this story that is run by an all star group of geologists.
Disclosure: Jeb Handwerger owns securities in these linked featured companies and they are website advertisers which means Jeb has been compensated and has a conflict of interest. This contains forward looking statements which may not come to fruition. This is not investment advice and not a solicitation to buy or sell anything.  This should be considered an advertisement with forward looking statements which may not come to fruition as small cap investing is incredibly risky.   I may buy/sell shares in these stocks at any time.  Please be aware.
Section 17(b) provides that: "It shall be unlawful for any person, by the use of any means or instruments of transportation or communication in interstate commerce or by the use of the mails, to publish, give publicity to, or circulate any notice, circular, advertisement, newspaper, article, letter, investment service, or communication, which, though not purporting to offer a security for sale, describes such security for a consideration received or to be received, directly or indirectly, from an issuer, underwriter, or dealer, without fully disclosing the receipt, whether past or prospective, of such consideration and the amount thereof."