All Major Asset Classes Higher Last Week
All the major asset classes were higher last week, led by stocks in emerging markets.
Reversing widespread losses from the previous week, all the broad categories of global markets advanced in the five trading days through July 14, based on a set of exchange-traded products.

Last week's top performer: Vanguard FTSE Emerging Markets (NYSEARCA:VWO). The ETF surged last week, rising 4.7%. The unusually strong weekly return lifted VWO to its highest close in nearly three years.
By some accounts, softer-than-expected inflation data for the US, combined with last week's testimony by Fed Chair Janet Yellen that was interpreted as dovish, cast a bullish aura over emerging-markets equities.
"We are back in the bullish mood," noted Mathieu Negre, the head of emerging-market equities at Union Bancaire Privee UBP, last Thursday. "Yellen confirmed they are more mindful of inflation. That sort of lowers the probability of the Fed hiking or reducing its balance sheet."
Sign up for our Newsletter & get the FREE eBook
Retirement Day Trader:
How to Sell Weekly Options for Steady Income
Meantime, the economic outlook remains encouraging from a global perspective. "Despite all the fears about politics in developed and emerging markets(NYSEARCA:EEM), the economic environment is relatively favorable with relatively strong global demand supporting exports, the fiscal austerity seen in some countries easing off, and some countries that have been in recession coming out of that," says William Jackson, senior emerging economist at Capital Economics.
Another factor boosting emerging-markets equities is a weak US dollar(NYSEARCA:UUP). The US Dollar Index slumped to a 10-month low in early trading today. All else equal, a softer greenback equates with higher prices of offshore assets after conversion into US dollars.
The weakest performer for last week: Vanguard Total Bond Market (BND). This US investment-grade fixed-income portfolio edged up 0.4%, the first weekly increase since mid-June.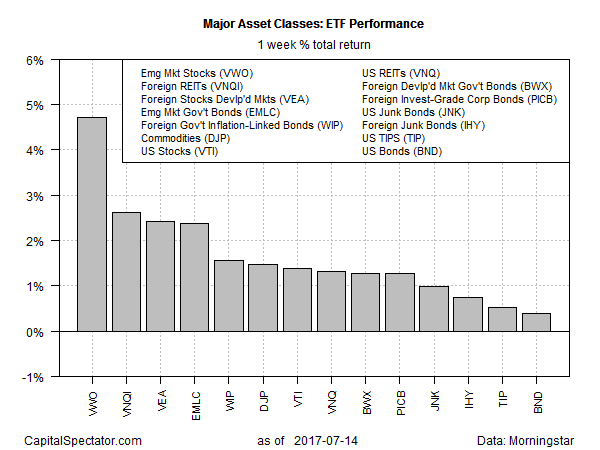 In contrast with the uniformly positive weekly chart for markets, trailing one-year data for the major asset classes reveals a mixed profile. Five of 14 markets that represent the broad sweep of asset categories are currently in the red.
As for the winners, foreign stocks in developed markets are in the lead by a slim margin over emerging-markets equities.  Vanguard FTSE Developed Markets (VEA) is currently ahead by 19.1% on a total return basis for the 12 months through July 14. That's slightly above the number-two performer for one-year return: VWO, which is up 18.8%.
Broadly defined commodities continue to post the weakest one-year performance among the major asset classes. iPath Bloomberg Commodity (DJP) is off 5.7% for the trailing 12-month window.
Although DJP managed to eke out a small gain last week, the exchange-traded note remains close to its lowest level year to date.