In today's world of constant distraction you just need to turn off the noise.
Look at any newspaper, and magazine, any TV channel and you are bombarded with conflicting information. You are torn from one idea to another and if you act on any of them you will have no conviction if things don't turn rosy right off the bat. Seriously, think about that statement. If I were to tell you to buy right here and now and give you a specific thing to buy, if you didn't understand the neoclassical model – how it operates and what it means to be buying right here and now – you will most likely not have the conviction to stick with the trade as it unfolds.
You have to have conviction to be successful in investing and that's true of trading as well as long term investing. You have to have a plan and the conviction to carry it out. If you don't, you are up a creek without a paddle most likely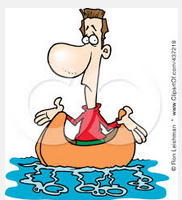 So, turn off the noise. Tune out the BS. Focus on some proven strategy. There are more than one that works. We just happen to have one that we feel strongly about and believe is one of the best models available to the individual investor. Learn it. Apply it. Ignore most everything else.
Sign up for our Newsletter & get the FREE eBook
Retirement Day Trader:
How to Sell Weekly Options for Steady Income