US Economic Growth Expected to Decelerate
US economic growth is widely expected to decelerate in tomorrow's "advance" GDP release for the fourth quarter after a strong increase in Q3.
Most forecasters see output rising in the low-2% range, roughly unchanged from last month's review and well below the robust 3.5% expansion in Q3 (based on the seasonally adjusted annual rate).

The Wall Street Journal's survey data for this month points to a 2.1% advance, based on the average forecast among economists. The current estimate is down slightly from last month's average 2.3% prediction.
The Journal's average outlook matches the New York Fed's Jan. 20 econometric forecast, which also anticipates a 2.1% rise in Q4. Meantime, the Atlanta Fed's GDPNow model is looking for a firmer 2.8% increase in 2016's final quarter (as of Jan. 19).
Sign up for our Newsletter & get the FREE eBook
Retirement Day Trader:
How to Sell Weekly Options for Steady Income
Using the current estimates as a guide serves as a reminder that tomorrow's Q4 data will show a wide gap between the current trend and President Trump's "bold plan" to raise economic growth to 4% via tax cuts, deregulation, and infrastructure spending.
Although a 4% trend line isn't impossible, lifting growth to that pace looks like a steep challenge, according to CNBC:
The economy has achieved 3 percent or better annual growth in gross domestic product just nine times in the past 27 years, and the last one was 11 years ago. So it's fairly rare occurrence, and Trump will be lucky to hit that number, let alone the 4 percent he pledged during the campaign.
One headwind is the reality facing the President's plans to revive growth and generate new jobs in factories with more trade tariffs and generally taking a hard line on the economics of globalization. "You cannot just slap tariffs on and hope that will bring back middle class jobs," notes Daron Acemoglu, an MIT economist. "The jobs that went to China would come back to robots rather than people."
The good news is that growth appears set to pick up a bit in this year's first quarter. Although it's still early, the New York Fed's preliminary Q1 projection for 2017 calls for GDP to accelerate modestly to 2.7%. Better, but nowhere near the President's goals.
The American public, however, is expecting that economic conditions will improve by more than a trivial degree once the Trump administration's plans take root. Gallup's US Economic Confidence Index ticked up to a post-recession high for the week ended Jan. 22.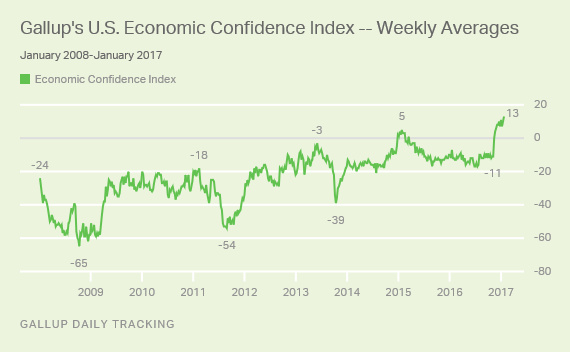 "Americans have viewed the economy more positively since President Donald Trump's election in November than they did in the nine years prior — largely attributable to improved confidence among Republicans," Gallup advised.
The question is whether reality will match expectations and trump the skepticism in the dismal science? Stay tuned. Meanwhile, hope springs eternal.